CHRISTMAS PARTY 2 (9th December) - Couples (M/F) Single Ladies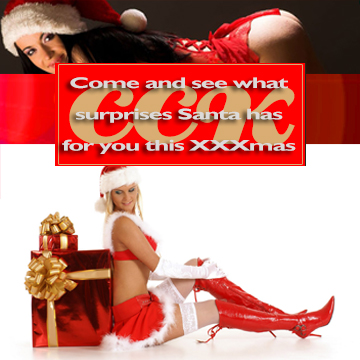 Duration: 7 Hours
Location: Auckland, CBD
Its our shout for Christmas to our valued guests who have supported us regularly during the year
- NO Admission fee - Its on us. (refundable deposit on the night)

This year again we will have 2 parties as we have so many extra guests on our database and hopefully 2 dates suits out of town guests.Arrival HAS to be before 9.30
Limited numbers only for this event with each couple bringing a $15.00 per couple = 1 secret Santa present for Santa to give away.
Like last year a good event with bubbles on arrival and horderves during the night .
Santa will be visiting with his wee helper and also some other entertainment on the night.
DRESS: Naughty & Nice


IMPORTANT PLEASE NOTE:
to complete this booking we require a $25.00 pp REFUNDABLE DEPOSIT - this will be refunded to you on the night for this party - Its called a NO SHOW FEE

CCK strives to provide a safe, private and discreet environment and expects guests to demonstrate an open-minded attitude and a respectful approach towards each other.
CAR-PARK -Members & Guests enjoy complimentary parking inside our courtyard, enabling convenient & private club access. Please arrive early enough to take advantage of this facility.